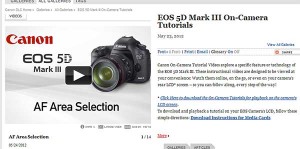 Auf der seiner amerikanischen Seite bietet Canon mittlerweile Video-Tutorials zu seinen Top-Kameras an. So gibt es natürlich auch diverse Videos zur EOS 5DMKIII.
Bei der Komplexität der neuen Kameras keine schlechte Idee neben der umfangreichen Bedienungsanleitung sich das ein oder andere Video anzuschauen und damit die Kamera besser bedienen und verstehen zu können. Hier die zur Verfügung stehenden Videos:
AF Area Selection
AF Configuration Tool
AI Servo Adjustments
Back Button AF
Manual Selection Part 1
Manual Selection Part 2
Audio Options
Basic Video Operation
Compression Method
Time Code
AE Lock with Hold Feature
Finder Display Intelligent Viewfinder
Multiple Exposure Shooting
Playback and Magnifying Image
Man kann die Videos online schauen, sich herunterladen und sogar, wenn man sie auf eine CF-Karte zieht, auf dem Display der Kamera anschauen. Allerdings empfiehlt Canon dafür den Einsatz von 16GB-Karten. Die Tutorials sind natürlich in englischer Sprache.